Offering artisanal, man-made rock. From residential and commercial to civil works, Total Rock Concepts has the capability and manpower to cater to any job, no matter how big or small.
Offering other services like 3d Loggerhead turtle, Religious Grottos, stairways, Ramps, stepping stones. From residential and commercial to civil works, Total Rock Concepts has the capability and manpower to cater to any job, no matter how big or small.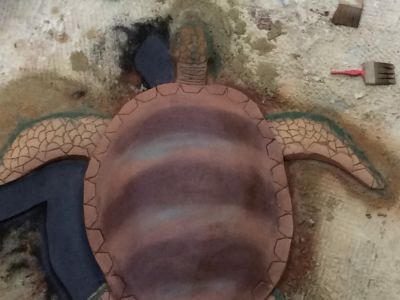 Let Total Rock Concepts create a beautiful 3D Loggerhead Turtle Sculpture on the bottom of your pool. The turtle is steel reinforced, shotcreted, hand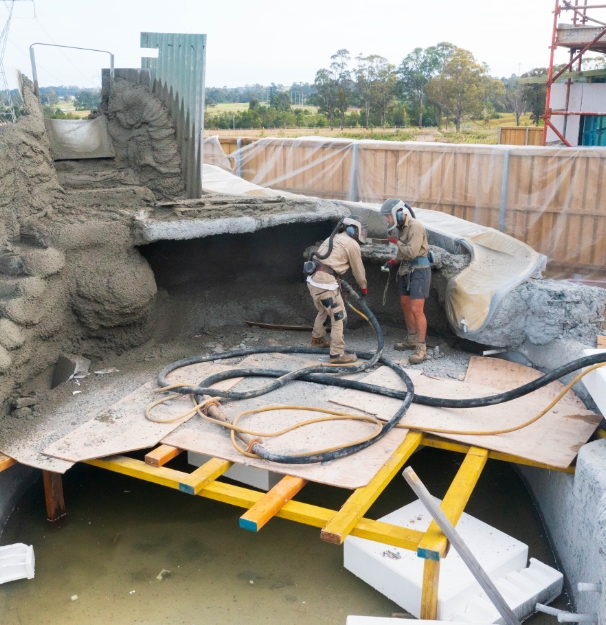 Learning everything he knew from mentor, Maurie of Maurie Rock Pools, when Oliver took over the business he expanded the services and hit a new level of growth.
Once solely rock pools, Total Rock Concepts is now a prospering father and son duo, offering a variety of services from residential to commercial-sized projects.
Now, with over 20 years of experience, the team at Total Rock Concepts has transformed a number of landscapes across Greater Sydney. From complex animal habitats at Taronga Zoo to a slice of paradise in the form of residential resort-style pools, there is no limit to what we can create with our versatile and unique artisanal rocks.
With Total Rock Concepts, your imagination is our only limitation.
Explore how we've crafted, transformed and overhauled recent projects utlilising the dynamic and versatile nature of our hand-sculpted, artificial rock.
There is No Project We Can't Handle.
"I have been using Total Rock Concepts for several years now. They have worked on both of my childcare centres as well as my personal residence. Oliver and his team designed and delivered non-structural timberwork with seating and man-made rock gardens for the children to enhance their natural play. The children at Pied Piper Kindergarten absolutely love their new gardens and we thank Oliver and his team. They provide quality service at an affordable price and I have never been disappointed in any facet of their business."
Terri Gee-Molloy
Director/Owner of Pied Piper Kindergarten
"I engaged the company Total Rock Concepts to carry out some landscaping work on a concrete swimming pool. The work involved creating Artificial Rock features. The project was completed very efficiently. The structure of the man made rock are both artistic and structurally sound. Oliver provided great service and I would not hesitate to recommend him.".
R.J. Matherws
Director of Hilton Homes PTY LTD
"Total Rock Concepts was engaged to carry out rock work at 5 different childcare centres throughout the Liverpool Council area during 2012-2015. Total Rock Concepts were involved from the initial design stage to completion of the work. Oliver Gaut was the main contact for all projects and showed a very high standard of professionalism and understanding towards the main goal for the childcare centres. Total Rock Concepts were very trustworthy and would always go above and beyond their work schedule for the satisfaction of the client. I would not hesitate to recommend them for future work."
Nick Bolton
Parks Coordinator Liverpool Council
"My family and I would like to thank you and your team personally for the fantastic project in installing our concrete pool this summer. You displayed a very professional and honest approach. The last day you completed the rockery, my jaw dropped and I honestly believed I was in a resort. We now have a completely different lifestyle to look forward to. Thank you! I would not hesitate in recommending your services to any person wishing to have their backyard dreams fulfilled."
Mariano & Zofia Moscabenny
"Oliver and his team are dedicated, professional, fair and honest. They work very carefully with you, and together you decide on the best approach for your proposed works. The quality of the work is impeccable, largely due to their high standard of product choice and workmanship, and the result is amazing. Total Rock Concepts has fulfilled every expectation that I had. I highly recommend Total Rock Concepts."
Anonymous
"I appointed Oliver Gaut from Total Rock Concepts to complete work for me. This work was to replace timber work on my existing deck and add an Artificial Rock Waterfall to my pool. Oliver displayed professionalism at all times, the workmanship completed was excellent. I am delighted with all aspects of the work completed and truly love what the Fake Rock has done to my landscape. It looks completely like natural rock."
Veronique Besnard
"I hired Oliver Gaut from Total Rock Concepts to do some work at my property, which included a feature artificial rock garden, children's waterslide and man made rock waterfall. They produced quality work, which exceeded my expectations and while doing so, also made the process as painless as possible for us, while not cutting corners and keeping to the quality of work they were also reasonable in cost and made sure to keep within our budget. Oliver and his team were unfailingly polite, honest, helpful and very pleasant to deal with. It is with pleasure, I highly recommend the services of Oliver and his team to anyone needing quality work done, you will not be disappointed."
Peta Appleroth
Talbot Park Canine Lodge
"This is the third time we have had you here to work on our property. From what was a very plain area, you have turned our yard into something quite spectacular. We have never seen the kids spend more time than they are now in their backyard. It has added value to our home and has created a wonderful lifestyle for us. You made making decisions very easy, your knowledge and ideas really helped us see the bigger picture, also working within our budget which still has made an astounding difference. Your workmanship creating the Artificial Rock, your endless help, nothing is ever a problem for you and your team. All our questions were answered and just putting our mind at ease made this makeover a breeze. What we loved most, is that you left our place spotless after all the work that was entailed so we could just enjoy our new backyard."
Brad & Kirsty Yates
BJ'sTree Service
"I was installing a large in-ground concrete pool and required extensive Artificial Rock Work to dress the whole site. I found Oliver to be very informative in regards to the proposed works, he explained the process in detail so that I was fully aware of the end product. Oliver and his team had to work closely with the pool installers and were able to advise me of several structural issues that these installers had ignored, which, left unattended, would have caused major problems in the long term. These problems caused several days delays, I expected I would receive an escalation in cost from Oliver as these delays had hindered his schedule, and as the saying goes "time is money". Oliver continued the project over the next month and was very accommodating with the numerous additional features and alterations my wife requested. Throughout the entire project, Oliver would keep me updated and went out of his way to ensure we would be very happy with the end result. His customer service was excellent. When all the work was completed, I could not have been more pleased with the end product, the quality of workmanship and the communication process throughout was outstanding (very rare in the building trade). When I requested the final account (I was expecting a substantial variance due to the additional undertakings we had requested), I was shocked when Oliver informed me that our original price still stood. Knowing the extra work he had performed and the additional hours spent on our job site I was embarrassed that he would not accept anything further. Oliver has since returned to perform other landscaping projects at my property, the results again as always the same, excellent service, price and advice."
Rodney McHugh
Minto Heights
"To say that Total Rock Concepts completely and utterly exceeded our expectations is an understatement! Ollie was able to communicate his vision based on the few ideas we had, and then work with us and adjust along the way as was necessary from time to time. Ollie and his team worked incredibly hard to deliver our spectacular backyard resort, complete with landscaping, that we will enjoy for years to come."
Anonymous
"With only a little idea of the main features we wanted with our updated pool and spa, we completely put our trust in Ollie and his team to deliver on our resort-style pool renovation. And boy, did they deliver! Not only did we get our much-desired raised and heated hot tub, but the waterslide and waterfall over the jumping rock and cave has meant that our pool is now the perfect environment for parties and for the kids to run amok!"
Anonymous
"All I can say is awesome! Totally transformed my backyard & made my pool the centrepiece. All we get when family & friends come over is WOW. Thank you for everything!"
Rick
" Thank you for transforming our previously average suburban backyard into a tropical paradise. Never thought this could be possible, however you achieved this without any hesitation and it's been a pleasure working with you on this project from day one. "
Joe & Olga
"We would just like to thank Ollie, Lana and boys for the installation of our new rock feature on our pool.. As soon as Ollie came to our home to quote it felt like we had known him for many years. His talent and vision is simply amazing.. he listens to what you want and goes above and beyond any expectations you may have.. he is a master at creating a masterpiece and we have no hesitation in recommending him and his crew to anyone."
Anonymous